Are you looking for dashboard templates to build your web applications and products with ease in 2021? You have landed in right place. We have listed 25+ high-quality free and premium dashboard themes for you to choose the best. If you are not aware of dashboard templates and how they can help, Let me explain.
What is Dashboard Template?
A dashboard is well organized graphical presentation of the information for the business in real-time. Basically a set of pages, which gives you reports, real-time data, status and gives you control over them.
Dashboard Template is a bundle of ready-to-use, highly creative, and functional pages which eradicate the pain of Web Developers & Designers to create a web app from scratch. You can call it Admin Template as well.
Using templates, you can be assured to focus on backend programming only, as it comes with an elegant & user-friendly design that enhances the look and feel of your Admin Panel.
In order to meet the deadlines, boost up productivity, and save the overall budget in developing web applications, we have researched and clubbed these highly-formulated featured templates for you that will help you to focus on back-end coding rather than investing your time on design and front-end development phases.
You will be able to find free and premium dashboard templates in different frontend frameworks like Bootstrap, Angular, React, and Vuejs. Choose the best one for yourself.
---
Top Dashboard Templates
One of the best Premium Dashboard Templates offered by WrapPixel is MaterialPro Bootstrap Dashboard which has a unique, stunning, and engaging design look with ready-to-use components.
MaterialPro Bootstrap Admin template has Google inspired design built with the most popular Bootstrap framework, bundled and supported by multiple third-party plugins making it an exceptional standalone solution.
---
A modular-based design included with the Bootstrap 4 framework, Ample Admin is a popularly known dashboard and control panel that provides an extra edge over customization of design and development.
Being a Bootstrap Dashboard, Ample Admin is a responsive HTML / CSS template that smoothly utilizes comprehensive Bootstrap components for the purpose of designing & re-styling commonly used plugins to maintain the seamless design consistency that can be used as a UI for backend applications.
To simplify the installation of this particular template depending upon your project needs the documentation provided will guide you to explore various components bundled with the Ample Admin template.
---
---
One of the best carefully designed free dashboard template that provides unique colors along with 10+ UI components. Severny Dashboard lite template also provides a 6+ pages template, 1 basic dashboard, basic table examples, and amazing widgets that you can readily use it.
This template is best suitable for personal and commercial projects that require adequate features. It is based on the Bootstrap 4 framework providing you customization options along with it.
---
If you want to have a taste of an elegant React admin dashboard template, go premium with MatX Pro. It is a full-featured React Material Design Admin Dashboard Template built with React, Redux, and Material UI. It is the premium version of MatX React, Material UI Admin Dashboard including many new features like Light/Dark themes, Advanced Forms, Vertical and Horizontal Navigation, Google Map, Multilevel Menu, New Charts, Chat & Inbox App, and many more.
Moreover, it is designed and coded in a way that anyone can build a web application within the shortest amount of time. MatX pro offers a complete design system that has Material UI – Styled API (version 5), Simple Components, Complex Components, Pages, Configurable Layouts, and Documentation included with it. It can be used as Admin Panel, Management System, CMS, CRM, Web & Mobile Application Backend, etc.
---
In order to consider primary features yet resourceful Bootstrap 4 Dashboard template, Matrix Bootstrap Admin Template is a perfect and modern admin template for the backend project.
If you are looking for upgraded features for your application, we highly recommend opting for Premium templates.
---
The Ultimate Web UI Kit & Dashboard Template. A professional package that comes with hundreds of UI components, forms, tables, charts, pages, and icons.
---
To get the wizard experience with free Bootstrap admin templates, get your hands deeper with Monster Bootstrap Admin Lite that provides game-changing features even as a starter template.
Monster Bootstrap Admin Lite being a minimalist template comes with all basic functionalities from the perspective of design for which the end results go beyond your expectations keeping in mind every aspect of the admin dashboards and seamlessly managing admin panels.
One of the painstaking jobs for all is finding and identifying the right Bootstrap templates among all the available designs in the marketplace. WrapPixel eradicates all of your endless searches by providing a modern, modular, elegant, and simplified design. Using this template you can take comprehensive command over your websites and applications.
---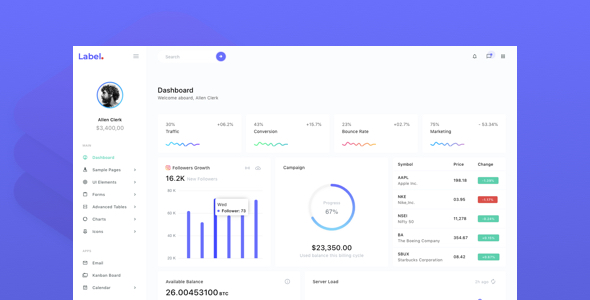 If your primary concern pertaining to your website is boosting up performance then Label Pro, one of the premium bootstrap admin templates with a powerful build to simplify the customization is something that you won't miss out on.
Its responsiveness, graceful and vibrancy lies in the user interface that supports almost every browser.
---
In order to achieve the maximum level of user-friendly interface design for your websites and applications, WrapPixel has introduced an Angular CLI WebApp template using the material design principles from Google.
MaterialPro Angular Dashboard Template which has an intuitive base upon Angular 6 Material framework is completely customizable using angular components and essential UI elements.
---
To enhance the user experience in admin dashboards and control admin panels effortlessly, AdminPro Angular Template is the one where your search ends for a powerful as well as responsive angular admin template.
AdminPro Angular Template powered with Angular that is a Typescript framework provides flexibility adhered to the needs of a user as it apparently caters to amazing features that help you to implement complex requirements pertaining to modern apps.
---
Your search for some fancy and stylish dark layout ends with Nalika Admin Template that itself is an extravagant masterpiece of the intellectual form of art for your website or applications.
This Bootstrap admin template design is compatible with almost every device and web browser.
---
WrapPixel offers one of the most powerful and quickly customizable Angular admin templates to adorn your website or application's extraordinary features. Elite Angular 8 Lite is a neat and minimal-designed dashboard widely being used by thousands of developers around the globe attracted to its detailing and built.
This admin dashboard is one of the best Angular templates online downloaded for free.
---
Want to surprise your eyes with amazing color combinations and modular designs for your personal projects?
Nice Admin Angular Lite should be your next choice. This dashboard is a lightweight, performance booster and provides a stunning look for websites and applications. You can always download this Angular 8 admin template for free to use.
---
This premium admin template provides multiple color themes with many UI elements to choose from.
Lumino Admin Template is a perfect responsive HTML5 with Bootstrap 3 framework dashboard that also gives you toggle options for smaller device screens as well making it the most likely used template to manage admin panels.
---
How about creating an incredible user interface to meet the needs of your product or application powered by the React framework?
Using Xtreme React Admin, it is possible to give stunning look to your website or cation which is a fully responsive React framework–based template providing you the flexibility to fulfill your business needs thereby improving productivity and performance.
---
To get the best out of the React template, WrapPixel has handcrafted a fully responsive admin dashboard that provides flexibility to the user pertaining to their needs.
MaterialPro React Redux Admin Template is one such premium dashboard that is empowered by the React framework to strengthen the foundation of the template functionality and features.
---
With an aim to provide flexibility and usability for a better user experience, Azia Admin Template fulfills all your needs under one roof. Its compatibility feature across all devices and web browsers has helped to gain popularity.
Apart from that Bootstrap 4 powered template provides 1000+ font icons variants, multiple responsive page layouts options, flexible charts, and form wizards to instantly create them.
---
Looking for a free React admin template that can fulfill all your essential requirements pertaining to your websites and applications? Well, here is the one stunning template built by WrapPixel that is nicely crafted in a modular design.
Xtreme React Lite Admin Template is highly robust and flexible to use for your admin dashboards and simultaneously manages well admin panel. This amazing template can help you to create extraordinary backends and web apps taking no more time.
---
With an aim to provide free lifetime updates and integrated plugins support, WrapPixel has introduced React framework powered AdminPro React Lite Admin Template that focuses upon providing users with a basic dashboard that is a clean, minimal and unique experience.
This React admin template is built with a modular and modernized design layout to simplify your usability of this template for personal as well as commercial projects. You can always click on the link below to instantly download for free to use.
---
If you are highly emphasized on optimizing page load time, Able Pro Lite Admin Template is the perfect match for your essential needs.
This template is powered by the Bootstrap 4 framework and provides an amazing design with built-in widgets and other necessary UI components to enhance user experience at the maximum. It offers free templates to download instantly.
---
There is always a need for a strong and well-structured back-end admin panel pertaining to the client's projects. Xtreme Bootstrap Vue Admin Template is a highly customizable Vuejs admin template that offers you multiple features in order to achieve the best look of the applications is simply the best option.
---
Want to try out a free Admin template that offers customization options for your client's projects? This Vuejs powered template is your next-stop solution to fulfill the essential needs of the project development at any point in time.
WrapPixel offers Xtreme Bootstrap Vue Lite Admin Template for free that you can easily use for your projects. It is readily available for free to download.
---
In order to use a responsive and well-structured admin dashboard for your websites or applications, you can always opt for Regal Admin Template that is responsive and well-documented.
You would definitely fall in love with its stylish look along with opulent design supporting every modern browser like Safari, Mozilla Firefox, and Google Chrome. It offers free admin templates that you can instantly download.
---
Ample is a powerful react dashboard template based on react redux with hooks integration. This template can help you create a quality interface for your web application with ease. It comes with lots of ready-to-use page templates and components, which will help you to build your project much faster and with ease.
It also comes with a dedicated 1 year of support and free lifetime updates from the WrapPixel team.
---
AdminPro is a powerful and easy-to-use dashboard template based on the Vuetify Framework. AdminPro is inspired by Google's Material Design concept and build with Vue Material Framework – Vuetify.
You can easily create nice-looking web applications and products using this free vuetify dashboard template.
---
Vanta Admin Template offers a variety of pages for Timeline, E-Commerce, log in and Register comes with Dark Theme.
You can always take a look at the demo for this premium admin template and buy it from the below link.
---
Download this powerful Vuetify dashboard for your project and create stunning google's material-designed dashboard interface for your web application. AdminPro vuetify helps you to create a well-designed admin panel for your websites and applications.
It comes with some beautifully designed dashboard variations, light, and dark color skins, hundred of page templates, and lots more to make your life easier. You will get detailed documentation along with 1 year of dedicated support and free lifetime updates upon your purchase.
---
Conclusion
So above are some of the best dashboard templates you'll find anywhere online. Download and try them out. If you want to read a similar post then do let us know. We'll be glad to share with you the latest Trends.