If you are looking for the best react admin dashboard template then either you're building it for your own or you have a client to build a full-stack application for him. But, you don't want to waste time, actually coding the HTML and CSS for the admin's section. Then you are at the right place, my Friend.
Here in this article, we'll provide you with a list of 6 React Dashboard Templates that may save you time and money for sure. These templates will change your life and help you retain your client for the longer term.
React Admin Dashboard Templates
1. AdminPro React Redux Template:
AdminPro React Redux Template is at the top of this list. What if you are looking for a budgeted react-redux UI admin dashboard for your high-yielding Web App project? It's really difficult to find the relevant admin template based on the project requirement and features expected. But WrapPixel has a beautifully crafted AdminPro React Redux Admin just for you that caters to all the requirements. This react admin dashboard template is one of the very useful templates.
This responsive react-redux admin template offers lifetime update support, flexibility for the design, and compatibility over multiple devices because it is based on the React framework and modular design. Due to this, you get fully-customization options, variants in dashboards, demos, color schemes, page templates, and other resourceful ready-to-use UI elements.
2. SRT-Dash React Admin Dashboard:
Now, as we're heading to the top 2 list of templates then we can't miss this amazingly designed template. It is one of the most used and beautiful templates that most developers use for dashboards. Either it's your e-commerce website or SEO website. In this, you'll have the left sidebar, and you have the right sidebar. If you want a horizontal viewport there is a lot you can do with this template.
There are so many different options that you can use, if you'll talk about pie charts, and line charts they will give you everything that you need. The details on it are really amazing. That is the only reason this comes amongst the top 2 React Templates. In reality, they are saving you so much time that you won't believe it.
You just have to download it and Boom! You are ready to go. Building such templates by yourself won't take you less than a month. So, it would be better to choose the cost-effective approach.
3. Cool React Admin Dashboard Template:
Cool admin is a very simple template, it has everything you need. It has charts, tables, forms, and even a calendar. It's pretty cool to have it, especially since people like the color scheme they have here. These are some of the factors that are usually more like in the templates. That should be clear and precise.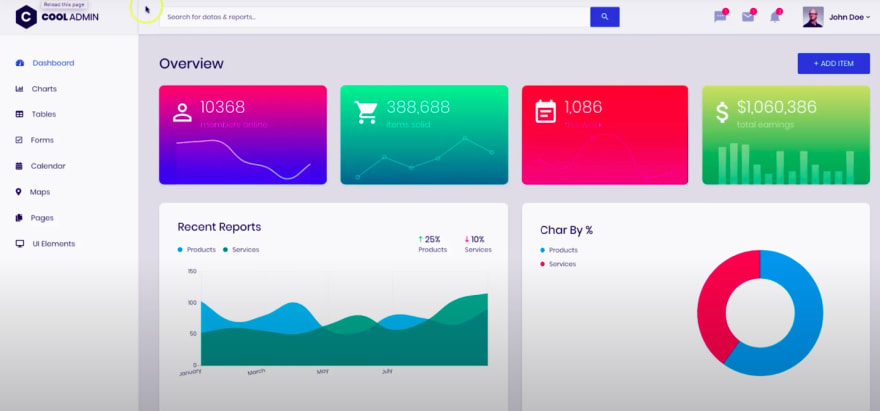 Their UI buttons batches, everything is organized nicely and carefully, and a perfect client website setup. If you have a website or a client whose brand can be something colorful like this then you can definitely use this template to fulfill client needs.
4. Ela React Admin Dashboard Template:
is a cool template for a dashboard template. It's a very simple one. It goes for websites or applications that are a little bit more corporate where they want something very plain, simple, and straightforward. It has a couple of things but it doesn't have as many things as other awesome templates have.
It offers charts, vectors, and all but it still has some features that make it a bit distinct from others. That might be the reason this template is listed in our top used react dashboard templates.
5. Sufee React Admin Dashboard Template:
Sufee admin is a pretty cool admin template. This one has a lot of features, especially when it comes to the components as far as social buttons, it offers a lot of cards in which there are a lot of cards that you can use based on your priority. It also has the same thing as real admin which is forms tables etc. It offers different modules based on your own customization options.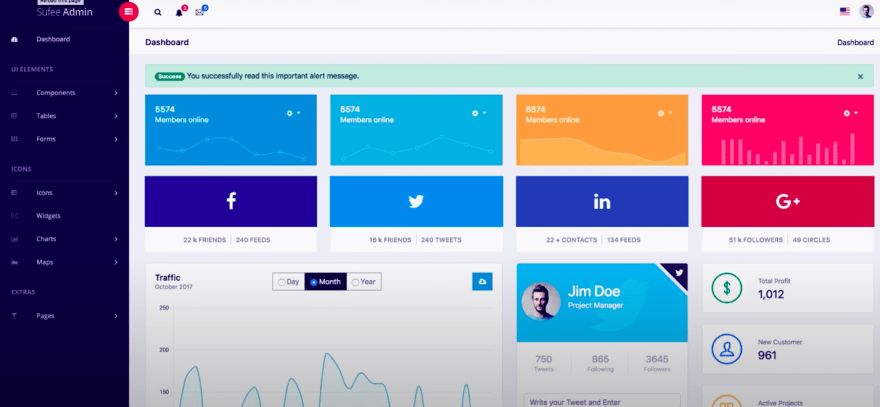 Of Course, they are all using Bootstrap so if you are used to using bootstrap then this is going to be pretty much better for you to choose. It has a lot of components that you can use to save time. People like the typography they offer. It also provides dark theme options that most people are interested in. If your client gives such requirements then you can go for it. This will best suit you.
6. MaterialPro React Redux Template:
Last but not the least, MaterialPro React Redux Template is the must-have template. To get the most versatile react material admin template is like finding a needle from thousands of things. WrapPixel has introduced MaterialPro React Redux Admin which is based on React framework and modular design that provides a cutting edge to its users with full customization options.
The designed material UI admin panel is responsive and offers a lucrative bunch of components, elements, and widgets based on the react framework and has availed ready-to-use plugins. To give the most tempting to your WebApps the react-redux admin template is carefully designed with minute details and is applicable for retail weather analytics, weather data analytics, and weather forecast admin templates.
EndNote:
Every product comes with some features and creativity that they usually put into it to make it the best. But some of them really get the clients' attention. This is our list of the top 6 best react dashboard templates based on our analysis and clients' feedback.
How to Make Applications Faster and Easier Using Free React Templates